The Collector's Encyclopedia of Van Briggle Art Potery : An Indentification & Value Guide
by Richard Sasicki, Josie Fania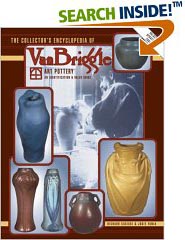 Hardcover - 144 pages; Publisher: Collector Books (2004 values)
Click Here to Order this Book from Amazon.com
Van Briggle art pottery, produced in Colorado in the early 1900s, includes some of the most beautiful pottery collected today. In full color are more than 800 pieces from 1901 to the present. Features company history, the production process, identification and dating, and company material. 2004 values. REVIEW:This book provides the most comprehensive pictorial review of pottery produced by the Van Briggle Art Pottery Company. Previous publications have produced a relatively small sample of photos and have focused on more select items. This book appeal to both the serious collector and the general collecting pubic, as all items produced by the company are represented.
---
Collector's Encyclopedia of Sascha Brastoff : Identification & Values
by Steve Conti, A. Dewayne Bethany, Bill Seay
Hardcover, 319 pages; Published by Collector Books.
This fascinating book is filled with hundreds of original Sascha Brastoff's original vintage photos, mementos, many one-of-a-kind pieces, and great Hollywood stories. There is also a special collector's section that features over 300 photographs in full color. Clarifying the Brastoff marking system and detailing information on Sascha fakes, this is the absolute source on Sascha and his dazzling designs.
---
Warman's Red Wing Pottery (Paperback)
by Mark F. Moran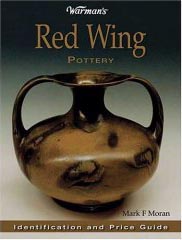 Paperback - 256 pages; Publisher: Krause Publications (June 1, 2005)
Click Here to Order this Book from Amazon.com
Red Wing pottery, with its beautiful glazes and hand painted designs, has evolved into one of the most desired collectibles in the stoneware and art pottery markets. The vast collector following for these pieces will love this essential new reference. Warman's(r) Red Wing Pottery covers 1,200 pieces of the most collectible Red Wing stoneware, art pottery and dinnerware, with a brilliant full-color photo of each piece as well as current pricing, historical facts and detailed descriptions to aid collectors in identification. Collectors will also find information on fakes and reproductions, ensuring secure purchases. This the most comprehensive guide they'll find anywhere. -1,200 listings for highly collectible Red Wing pottery -Full-color photos of each piece -Current collector pricing, detailed descriptions, historical facts and tips on spotting fakes and forgeries
---
Figural Planters: A Pictorial Guide With Values
by Kathleen Deel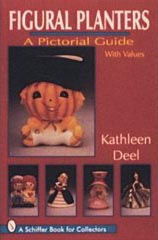 Paperback - 160 pages; Publisher: Schiffer Publishing
Click Here to Order this Book from Amazon.com
If you love collecting and are looking for a new collectible, this book is for you! Pictured are hundreds of planters imported since the 1950s, mainly for use by the floral industry. From lovely ladies in brightly colored Christmas and Valentine dresses to little boys playing baseball, there is something for everyone in this book. A large section is devoted to baby vases, as well as nursery rhyme characters and loveable Raggedy Ann and Andys. The accumulation of several years of extensive searching by the author, the book does justice to the amazing variety and ingenious design of these planters. Separated into specific categories with many lovely examples of each type of vase illustrated, this book will take you on an extended journey into the world of imported figural planters.
---
Figural Nodders : Identification & Value Guide
by Hilma R. Irtz
Paperback, 223 pages; Published by Collector Books.
Hilma Irtz offers her well-researched collection in this reliable and readable resource. Loaded with nearly 700 sharp color photos, each containing a nodder is described at length, with measurements, dates and current values.
---
Go Back to the
Pottery Main Listing