Doll Values Antique to Modern (2nd Ed)
by Patsy Moyer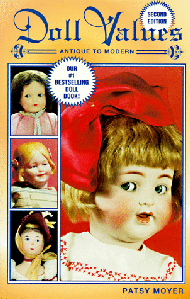 Paperback - 384 pages 2nd edition (March 1998); Collector Books.
Click Here to Order this Book from Amazon.com
This all-new second edition has all-new photographs and updated listings. Included are over 6,000 listings with complete descriptions, current values, histories and sizes. More than 300 full-color photographs aid identification, and an extensive index for quick reference at doll shows and auctions are included. Patsy Moyer has been collecting dolls and publishing a doll collector's newsletter for several years and is also a certified appraiser and owns a doll museum. 1998 values.




---
Barbie the First 30 Years 1959 Through 1989 : An Identification and Value Guide
by Stefanie Deutsch
Hardcover - 287 pages (October 1995); Collector Books.
Click Here to Order this Book from Amazon.com
For more than 30 years, Barbie has mirrored the fashion, lifestyles, and beauty ideals of her time. Collectors have been enchanted by her as flower child, disco queen, rock star, and career woman. This book chronicles the first three decades of this popular collectible, showing a complete, year-by-year line of over 800 U.S. and foreign Barbies, outfits, and accessories.
---
Collector's Guide to 1990s Barbie Dolls : Identification & Values
by Maria Martinez-Esguerra, Maria Martinez
Paperback - 288 pages (October 1998); Collector Books.
Click Here to Order this Book from Amazon.com
One of the first books to feature Barbie dolls from the '90s, this quick-reference guide offers detailed price listings for collectors and Barbie lovers. Focusing on Mattel's regular line of "pink box" Barbies, information is also included on Midge, Christie, Teresa, Kira, and Nia dolls. Approx. 600 color photos.
---
The Collector's Encyclopedia of Barbie Dolls and Collectibles
by Sibyl Dewein (Contributor), Joan Ashabraner, a Dunzelmann, Sybil Dewein, Joan Ashabrane (Contributor)
Hardcover - 305 pages Reissue edition (Updated values); Collector Books.
Click Here to Order this Book from Amazon.com
First published in 1984, this is an updated edition version with 1996 values.
---