Josef Originals: Charming Figurines with Revised Price Guide
by Dee Harris, Jim Whitaker, Kaye Whitaker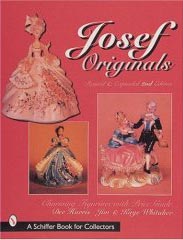 Paperback - 128 pages; 2 Rev Exp edition; Schiffer Publishing
Click Here to Order this Book from Amazon.com
Ceramic figurines of beautiful and romantic young women were made in hundreds of different poses and costumes by Josef Originals. This all-color illustrated second edition follows the art of California ceramicist Mauriel Josef George from 1945 through the 1980s. Packed with hundreds of cheerful images, this book will be an invaluable aid in the dating and identification of these abundant figurines.

---
Josef Originals: Figurines of Muriel Joseph George
by Jim Whitaker, Kaye Whitaker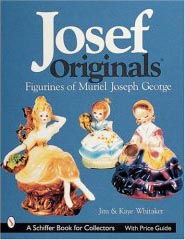 Paperback - 160 pages; Schiffer Publishing
Click Here to Order this Book from Amazon.com
The original designer of Josef Originals, Muriel Joseph George, is introduced for the first time through family photographs and interviews with family members. This book gives valuable insight into the life and times of this talented artist through written historical accounts depictions of her work. Josef Originals have long since been favored by collectors as they explode with color and sparkle with life. Unique designs of dogs, cats, people, and more are featured throughout this book, making it a wholly enjoyable collector's guide. This is new information Josef enthusiasts have been seeking for years. Over 600 color photos of 850 figurines made from the 1940s to the 1980s, an informative text, descriptions, and current value ranges provide the reference no figurines collector can be without.

---
2002 Collector's Mart Price Guide to Limited Edition Collectibles (Price Guide to Contemporary Collectibles)
by Mary Sieber (Editor), Collector's Mart Magazine (Editor)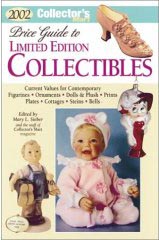 Paperback - 926 pages; Publisher: Krause Publications; 7th edition
Click Here to Order this Book from Amazon.com
Bigger and better than ever, this guide is the authority collectors of limited editions turn to every year for updated and accurate pricing and identification. Features more than 65,000 listings and 130,000 prices for contemporary collectibles in the secondary market to aid readers in determining the value of their items. More than 370 companies are represented in this updated edition, with eight different categories of collectibles, including bells, cottages, dolls, figurines, plates, prints, steins and ornaments. The handy, compact and easy-to-use guide offers two indices, one arranged by company and one by category as well as an 8-page color section and 200 black and white photos. Edited by Mary L. Sieber and the staff of Collectorís Mart magazine -Includes information on edition limit, issue price, year of issue, series name and artistís name -Introductions written by industry experts

---
No. 1 Price Guide to M.I.Hummel Figurines, Plates, Miniatures, & More (Mi Hummel Figurines, Plates, Miniatures & More 10th Ed.
by Robert L. Miller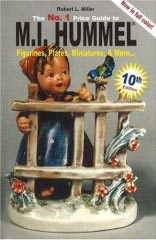 Paperback - 614 pages; Publisher: Reverie Publishing; 10 edition (October 23, 2006)
Click Here to Order this Book from Amazon.com
Now, for the first time in full color, the latest edition of the most widely respected price guide to M.I.Hummel collectibles includes thousands of listings and a larger number of photos than ever before. Compiled by internationally known expert Robert L. Miller, the 10th edition of this classic provides the most up-to-date secondary market prices. Universally recognized as the most complete compilation of M.I. Hummel values, this book provides a numerical listing of all M.I.Hummel designs issued by W. Goebel, a history and explanation of back stamps and other marks, a profile of Sister Maria Innocentia Hummel and biographies of the sculptors who bring her illustrations to three-dimensional life. Sharply detailed, full-color photos of every piece make this newest edition the most valuable guide ever.

---
Warman's Hummel Field Guide: Values and Identification (Warman's Field Guides)
by Carl F. Luckey, Dean A. Genth, Maria Innocentia Hummel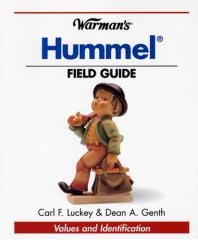 Paperback - 511 pages; Publisher: Krause Publications (August 2004)
Click Here to Order this Book from Amazon.com
This take-anywhere book for collectors on the go features the most valuable vintage Hummel figurines, prices, descriptions and identification information including full-color photos, and tips from Hummel expert Dean A. Genth.

---
Luckey's Hummel Figurines and Plates: Identification and Price Guide (12th Edition)
by Carl F. Luckey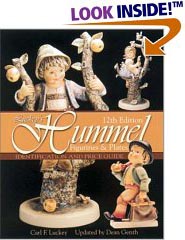 Paperback - 560 pages; Publisher: Krause Publications; 12th edition (March 2003)
Click Here to Order this Book from Amazon.com
Expert Hummel historian Dean Genth updates, expands, and enhances this eagerly anticipated new edition of a comprehensive volume for Hummel collectors, enthusiasts and dealers. This officially licensed book features nearly 3,000 figurines, prints, plates, postcards, calendars, and more. It includes full descriptions, current production status, identification information, and pricing, along with a color photograph section featuring some of the most unique Hummel pieces. Readers will also discover tips on recognizing fakes and forgeries and will gain valuable insight on how to better buy and sell on the secondary market. Genth is one of the countryís leading collectibles specialists. He writes a regular column for Collectorís Mart magazine, and is the publisher of The Crystal Report.

---
Department 56 Village Collector's Value Guide : 1998
Paperback - 207 pages 3rd edition (December 1998); Collectors Pub.
Click Here to Order this Book from Amazon.com
Now in its third edition, the Department 56 Villages Value Guide helps make the year-round tradition of village collecting more exciting than ever! Because each Department 56 village has its own unique character, the Value Guide goes in-depth with comprehensive overviews and histories, a look at what's new and a showcase of the top ten most valuable pieces. The Value Guide also lets collectors test their knowledge with trivia quizzes, find out how to maneuver on the secondary market and improve their display prowess with our display tips. An expanded Value Guide section offers large color pictures of every building and accessory (including variations), while up-to-date secondary market values and room to total the value of your collection make the Value Guide the one book Heritage Village and Snow Village collectors shouldn't be without!
---
---
Go Back to the
Porcelain Main Listing