O'Brien's Collecting Toys: Identification and Value Guide (11th Edition)
by Karen E. O'Brien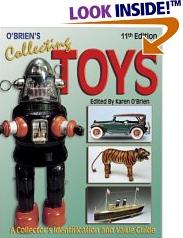 Paperback - 760 pages; Publisher: Krause Publications; 11th edition (January 2004)
Click Here to Order this Book from Amazon.com
For 21 years, O'Brien's Collecting Toys has ranked as the ultimate guide to classic collectible toys. Now, this brand new, expanded edition features even more entries—some 17,000, and lists many more prices—more than 51,000 in up to four grades of condition. What's more, the updated and detailed descriptions plus nearly 4,000 pictures make this 10th edition a collectors' necessity. Toy experts from around the country contributed their expertise to produce a comprehensive compilation that covers both common and ultra-rare toy manufacturers.
Carrying one of the most respected names in the toy industry, this volume adds new sections, such as farm toys, and expands others, such as vehicles. It has chapters on everything from animal-drawn toys to battery-operated toys, and from wood and composition toys to tin wind-up toys.
- Covers a wide variety of vintage toys that spans 90 years, from the late 1800s to the 1970s - Includes nearly 17,000 listings and more than 51,000 values in up to four condition grades - Carries more pictures than any other guide, nearly 4,000 color and black and white photos --This text refers to an out of print or unavailable edition of this title.