Collectibles Market Guide & Price Index (19th edition)
by Collectors' Information Bureau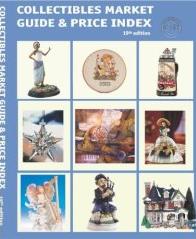 Paperback - 512 pages; Publisher: Collectors' Information Bureau; 19th edition (December 30, 2004)
Click Here to Order this Book from Amazon.com
When it comes to collectibles, where do the enthusiasts go when they want to know price, condition, or trends? They go to the industry's most respected source: Collectibles Market Guide and Price Index from the Collectors' Information Bureau. Here's the ultimate guide to all facets of collecting, including buying, selling, insuring, and online trading, regardless of whether someone collects only a single line, or up to 100.
With its comprehensive directories, more than 100 feature stories, 225 artist profiles, and tons of collectible advice, this truly is the "encyclopedia of collectibles."
Benefits: -The latest on 65,000 collectibles, including issue price, year of issue, edition, status, and more. -Complete directories for manufacturers, national clubs, and national secondary market dealers. -All from Collector's Information Bureau, the collectibles industry's leading trade association. --This text refers to an out of print or unavailable edition of this title.